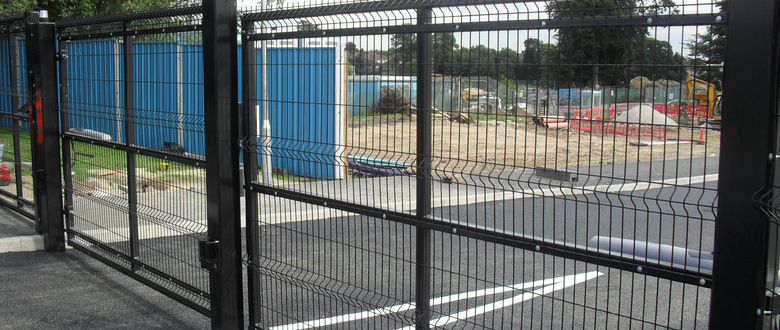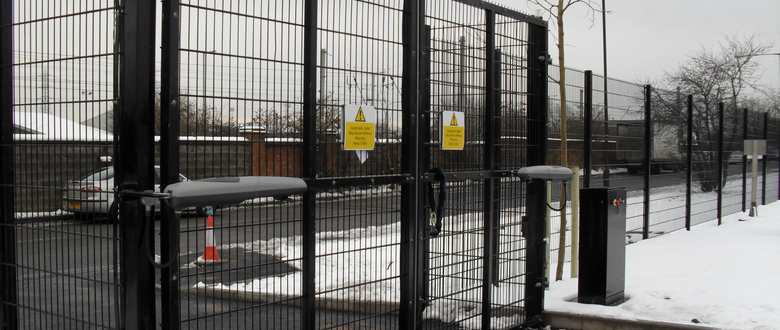 Product Overview
The Paramount Powered Swing Gates are the ideal solution for protecting the perimeter of all types of premises ranging from light domestic to heavy industrial. We offer two types of swing gate operator. The first mounts across the hanging post and the rear face of the gate, whilst the second sits away from the gate on a concrete plynth. We can offer versions suitable for 220-240v mains connection or alternatively a 110v supply is also available for use in and around mines and quarries. We provide all of our operators with a manual release or override mechanism for use during a power failure.
Our operators are suitable for single leaf gates sized between 1.0m and 5.0m wide, double leaf configurations can be produced up to 10.0m wide.
We offer a semi automatic operation version which operates in a "hold to run" configuration. Users will be required to be in constant sight of the gates, and hold a push button or key switch whilst the gate travels.
For environments where the gate needs to operate in a fully automatic mode, typically from access control systems or induction loops we offer a fully automatic version with pressure sensitive edges, safety beams and electronic management.
The Paramount automated swing gates are type approved at the factory and are certified with the CE mark for use within the European Union.
The gate leaf has a typical opening/closing time of 15 seconds dependent on the size of the gate, whilst it is travelling in both the open and closing cycles the drive system continuously monitors the gate leaf. The gate reverses or stops should it come into contact with an object, person or vehicle complying with the latest European Safety requirements.
Locking solutions may be required on some gates, where this requirement is necessary we provide a range of locks suitable for the application. These include magnetic locks, solenoid locks and motorised locking solutions.
GATE LEAF INFILL OPTIONS
Tubular Steel, Box Steel Section, Vertical Bar, Palisade and most mesh systems can be specified for use as the gate infill material. For a smart and contemporary appearance the Paramesh range of mesh fencing products offer a smooth and modern look and are suited to most environments.
For quotations and automatic swing gate prices for our automated gate range of products, (automatic gate prices are based on the road width and required height) please contact our sales department.
Technical Specifications
Twin infrared safety beams, offer reliable detection of vehicles.
Manual hand release, for use during an electricty outage.
Safe movement whilst travel occurs.
Optional- Intruder alarm and PIDS integration.
Local Stop buttons.
LED orange travel light.
Paramount Long Life Bearing Hinges.
Optional Advanced Safety Intelligence and pressure sensitive edges.
Optional Powder Coating in any RAL colour.
Totally none hydraulic operation.
Our operator will operate large or small swing gates.
Electric locking is not always required.
Physical gate stops are not always required.
Other Product Features
RAL Colour chart- Optional powder coating can customise a gate into your own corporate colours, or will match with an existing or new powder coated fence. (Colours are provided for reference only)
Our 24hr Service Centre offers end users with support and after sales care, we can provide a service or maintenance package to suit all of our product ranges, and keep your automated gate in the best of condition. Serviced products offer end users with exceptional reliability and a long life span.